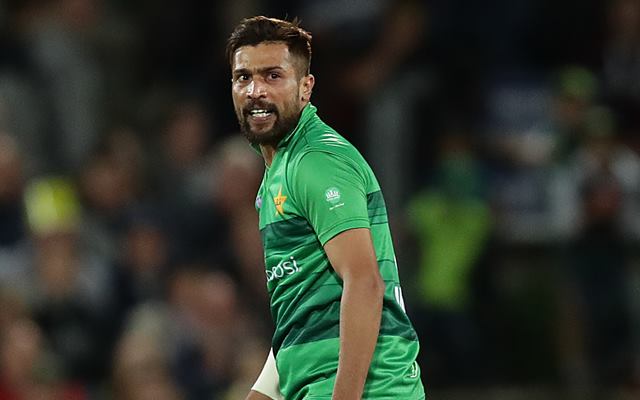 Pakistan fast-bowler Mohammad Amir has taken a sly dig at Pakistan Cricket Board (PCB) for the Covid-19 protocols that were in place during the sixth edition of the Pakistan Super League (PSL). Earlier this month, PSL 2021 was postponed abruptly after a Covid-19 outbreak was reported in the event's bio-secure bubble in Karachi.
A total of seven players had tested positive for the novel coronavirus and it led to postponement the league. The PCB took the decision after a meeting with all the franchises. Before the postponement, only 14 games were played in the tournament that got underway on February 20. Since the postponement, the PCB has faced severe criticism from several quarters including the players.
And Amir has joined the bandwagon too as the former Pakistan international took a dig at the board over the arrangements. Talking to Cricket Pakistan, the Karachi Kings star said that outsiders should not have been allowed at the hotel where the players and officials were staying.
"There were two lifts at the hotel, one for players and other for the rest of the visitors. There was a wooden stand to separate the two but the people using the lifts could still talk and see each other. Covid would not run away after seeing that piece of wood," Mohammad Amir made a tongue-in-cheek comment.
"Outsiders should not have been allowed at the hotel and the staff should have stayed in the bubble throughout the event," he added.
Mohammad Amir on experience of playing in other leagues-
Mohammad Amir further shared his experience of playing in other leagues during the pandemic. The left-arm pacer opened up on the arrangements that were in place in T10 League and the Lanka Premier League. Amir stated that the in both the tournaments, the outsiders were not allowed to enter the hotels where the teams were staying.
"I played at the T10 League and the Lanka Premier League (LPL) where the hotel was fully booked for the players and no outsiders were allowed. Every team had their separate lifts and teams were restricted to their designated floors. Each team had their separate gym and pool sessions. After one team had used the gym the other had to wait for 20 minutes so that the area could be sanitized properly," he said.
Disclaimer: This Article is posted from a 3rd party source PSLPakistanSuperLeagueT20.cricket helps you discover publicly available material and as a search engine and is not responsible for it.